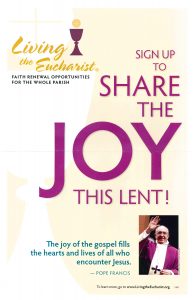 Are you committed and open to having a great spiritual journey this year? You are invited to discover how Living the Eucharist  can boost your spiritual journey.   Living the Eucharist   has the potential to help us all appreciate more richly our role at Sunday Eucharist, and so enrich our experience of really being there, present to the presence of Christ and to one another each Sunday of our lives. If you desire to be more fully and actively engaged on Sunday, this informative time is for you.  Regardless of your age or where you feel you are on the journey of faith, you are invited to explore Living the Eucharist.
This is a free opportunity for you.
Please call or email Ed at 810-686-971 x224 or efhorskicharleshelenafx@gmail.com.
——————————————————————————————————————————————————————————–
RCIA
Ed Horski is our Director of Adult Faith Formation and Evangelization. Ed coordinates RCIA and Ann Ferguson teaches the classes. If you or someone you know is interested in joining the church please contact Ed at (810) 686-9861 ext. 224 or efhorskicharleshelenafx@gmail.com.
Rite of Christian Initiation of Adults

Prior to beginning the RCIA process, an individual comes to some knowledge of Jesus Christ, considers his or her relationship with Jesus Christ and is usually attracted in some way to the Catholic Church.  This period is known as the Period of Evangelization and Precatechumenate.  For some, this process involves a long period of searching; for others, a shorter time.  Often, contact with people of faith and a personal faith experience lead people to inquire about the Catholic Church.  After a conversation with a priest, or RCIA director, the person, known as an "inquirer," may seek acceptance into the Order of Catechumens, through the Rite of Acceptance.  During this Rite, the inquirer stands amidst the parish community and states that he or she wants to become a baptized member of the Catholic Church.  The parish assembly affirms this desire and the inquirer becomes a "catechumen."

There are sessions every Thursday evening from 6:30 p.m. until 8:30 p.m. from September until May or June, depending on when the Feast of Pentecost is celebrated.